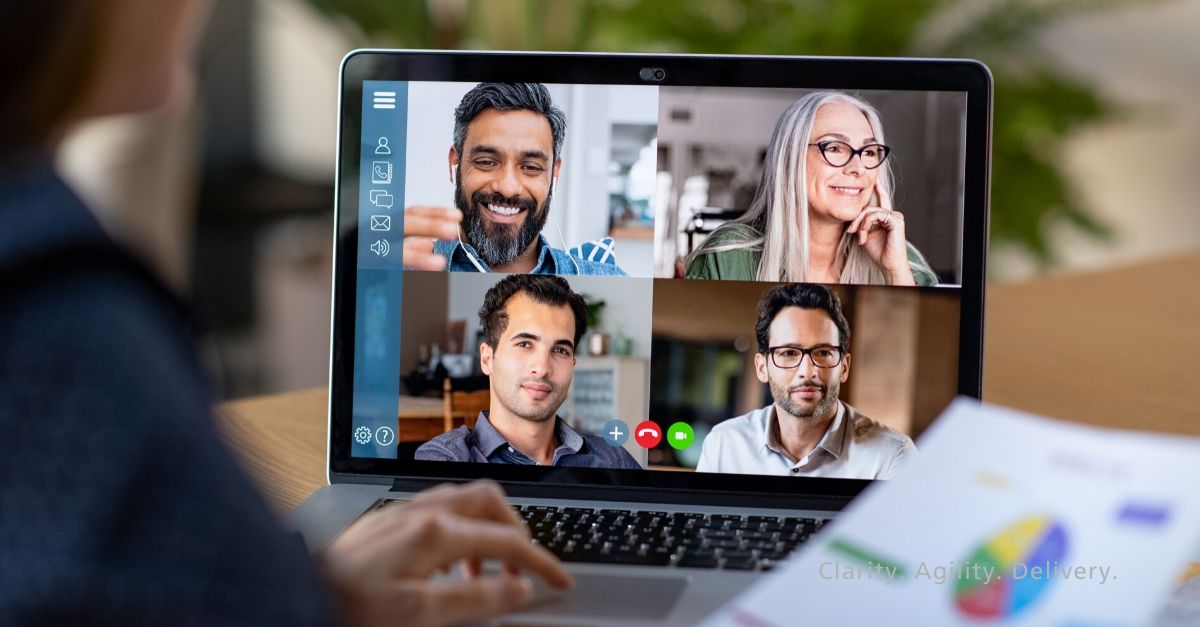 13 Apr

Managing successful teams remotely – our top six tips

Whilst many of us have worked from home a day or two per week and we're up to speed on remote working, I'm hearing that managing teams during lockdown is the bit that many of you are concerned about:
How can I keep the team motivated?
Is it possible to explain complex concepts when we're not physically sitting together?
What's the best way to keep the team connected?
Many of the managers we speak to pride themselves on their ability to mentor team members, and they thrive on social interaction with colleagues in the workplace.
Here are our top tips on how to manage teams effectively during these trying times and beyond:
Be a leader
The single most powerful thing you can do when managing teams is to set clear expectations and deliverables and define timescales for when you want work done by. Micro-managers beware – now's the time to develop a trusting relationship with team members where you empower your people to get on with their work.
Establish regular check-ins with your team
When working remotely, it can be difficult to monitor progress, and this is especially difficult for those who like to 'manage' rather than 'lead' teams.
This does need some good diary planning and can be time consuming but provides support to your team and lets them know that remote working doesn't need to be lone working. For some more established team members, a weekly call may suffice, whereas newer members of the team may need daily catch-ups, even if they are just a quick 15 minutes first thing to set priorities and run through progress.
Utilise technology and research the additional functionality
If you're familiar with Zoom and Skype, you're halfway there, although some clients prefer to use WebEx or Blue Jeans, which may work best for you and your team. It's worth doing a bit of research on what's possible within some of these tools. Simultaneous screen sharing, adding annotations, shared whiteboards and breakout rooms are all possible and well worth exploring.
If you can access a shared server, then that's great, but if you're finding that server access is slowing you down, you might want to share content on Microsoft Teams, Google Drive, OneDrive, Smartsheets, etc. All these allow for real-time collaboration that cut down work time if used effectively, but make sure to consider any security breaches you could be encountering.
Team socials
The social aspect of managing a team should not be underestimated, even in these times of remote working.
If your team is used to being physically together, it's definitely worth setting time aside on a Thursday or Friday for team 'down time' at the 'Zoom Inn', or you could encourage some sort of team activity like a music quiz where each member of the team shares 10 seconds of a song for everyone else to guess.
It's a chance for the team to talk through the highs and lows of the week and maybe even share a house tour or introduce a pet – all things that help you build stronger bonds and get to know more about each other. You'll be surprised what you learn and how much more connected it makes the team feel.
Time for you
Spending time on screen is tiring, so make sure you give yourself daily downtime to clear your mind. Choose what time works best for you – some people like to do their daily exercise first thing to get them in the right frame of mind for the day whilst others like to use it to break up the day with a decent lunchbreak.
Giving yourself time allows you to be the best for your team and sets a good example of how you value wellbeing.
Finally, do what works for you and your team
In these unprecedented times, it's very easy to compare ourselves with others, yet there really is no right or wrong way of dealing with this situation. Everyone and every team is unique, so be agile and flexible to create ways of working that work for you.
We're all in uncharted territory – some days we'll feel like we're mastering this working from home malarkey and others we'll feel unproductive and lethargic.
Be honest with team members about how you're feeling – you're then setting the stage for them to share their feelings. And the beauty of being part of a team is that we can support others through the tricky days and be guided when we ourselves are struggling.
We're here to offer support and reassurance over the coming weeks and months about managing teams or anything else – drop us a line if there's anything you'd like to learn more about.